Minimise Application Security Threats
The edgeNEXUS pre-authentication feature provides user authentication prior to allowing access to a service. Single Sign-On (SSO) allows you to challenge a user only once for access to multiple back-end services.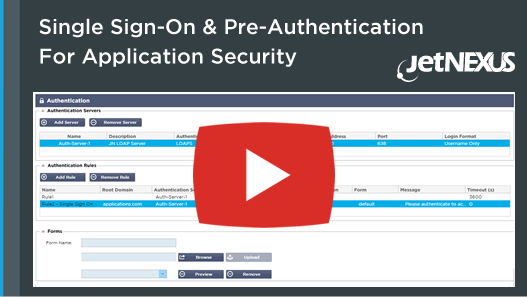 edgeNEXUS Pre-Authentication and Single Sign-On
The edgeNEXUS ALB-X offers powerful yet flexible authentication security options with its Pre-Authentication feature which is quick to implement and simple to configure without sacrificing functionality.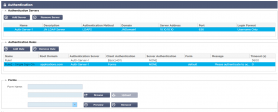 click here to enlarge
Pre-Auth With Custom Login Page
Users can be challenged either by a basic 401 form or by a edgeNEXUS HTML authentication page. You can even design and upload your own authentication page. The logins, successful or otherwise, are logged to the w3c audit log for future review. Users can be selectively challenged using powerful edgeNEXUS flightPATH traffic management rules.
This means you can choose to challenge all users or be more specific and choose a certain IP range, country, URL or domain etc. flightPATH gives you a comprehensive toolkit for creating challenge criteria, please refer to flightPATH user guide and documentation for further information. edgeNEXUS can also provide authentication to the backend servers using NTLM or Basic.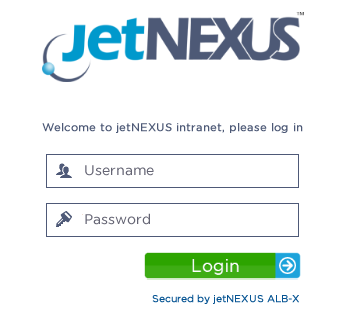 click here to enlarge
Replace Microsoft Forefront TMG
In addition to providing Pre-Authentication functionality, the ALB-X can be used to provide Single Sign-On capability to multiple backend services.
The Single Sign-On functionality makes edgeNEXUS ALB-X a reliable replacement to the discontinued Microsoft ForeFront TMG (Threat Management Gateway) solution.
As a Microsoft Gold Partner, it's never been so easy to quickly replace aging TMG infrastructure. edgeNEXUS also offers jetPACK configuration templates for fast and simple implementation of application delivery features for popular Microsoft products such as Exchange, RDP and Lync – all of which will benefit from the Pre-Authentication and Single Sign-On module.