Cisco Load Balancer is IVT Certified for compatibility with Cisco Unified Computing System (UCS).
Cisco customers can install edgeNEXUS' load balancer software (as a Virtual Appliance or an ISO image) on either Cisco B-Series or C-Series to improve the performance, scalability and reliability of applications.
Our IVT certified solution combines the innovative load balancing capabilities of edgeNEXUS with the power and flexibility of Cisco Unified Computing System to deliver an integrated, scalable and highly efficient application delivery solution. By eliminating the need for third-party load balancers edgeNEXUS and Cisco are able to reduce the complexities and TCO associated with external load balancing solutions, offering a fully supported solution.
Why Choose edgeNEXUS for Cisco Unified Computing System?
Unprecedented ease of use
Robust enterprise layer 4-7 feature set
Advanced traffic optimisation for improved end user experience, bandwidth reduction and latency mitigation
Fully functional RESTful API to simplify integration with security, management and provisioning platforms
Cost effective, comprehensive solution
See edgeNEXUS in action with our Video Tutorials.
 edgeNEXUS and Cisco Load Balancer Deployment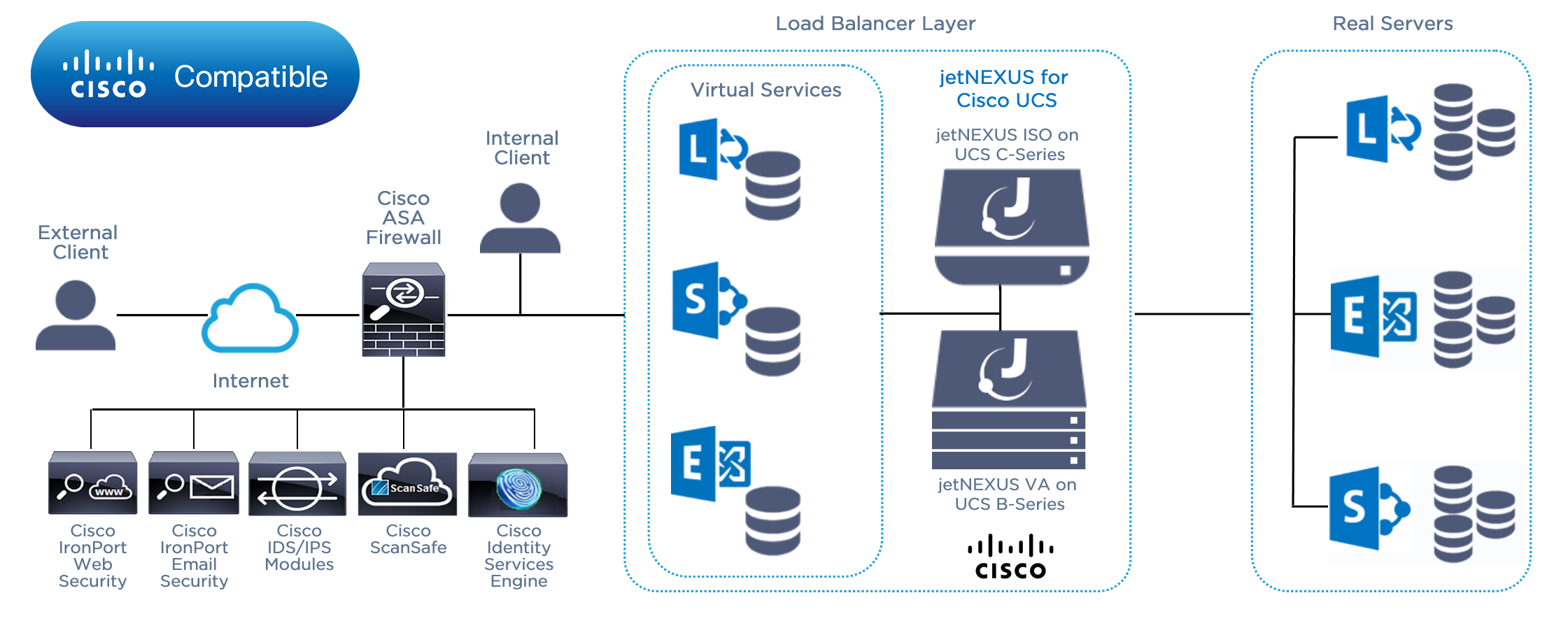 Five Great Reasons to Choose edgeNEXUS for UCS
High Availability for mission-critical services
Enterprise-class, feature-rich technology
Easy to deploy, simple to configure, straight forward to manage
Application Acceleration for outstanding user experience
Automatic configuration with application deployment templates
Cisco UCS B-Series
Increase server performance, flexibility, and scale for virtualized and non-virtualized applications
Deploy server applications faster and manage connectivity as needed
Get server memory and I/O capacity to meet every need
Reduce the number of adapters, cables, and access-layer switches needed for server LAN and SAN connectivity
Cisco UCS C-Series
Improve total cost of ownership (TCO) and increase business agility
Balance simplicity, performance, and server density for production-level virtualization, web infrastructure, and data center workloads
Extend the benefits of Cisco Unified Computing and VIC technologies to rack server environments